MuSK-MG Linked to Eye and Bulbar Symptoms, Chinese Study Finds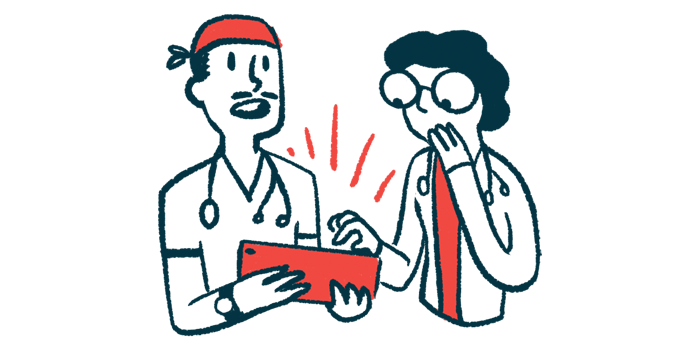 A type of myasthenia gravis (MG) caused by the presence of self-reactive antibodies targeting muscle-specific kinase (MuSK) affects mostly women and manifests with eye and bulbar symptoms (those involving the face and neck), according to a single-center study in Northwest China.
In these cases, MG can be successfully managed with either a low dose of rituximab (sold as Rituxan in the U.S. and as Mabthera in Europe) or a combination of Prograf (tacrolimus) and prednisone.
The study, "Clinical features, treatment and prognosis of MuSK antibody-associated myasthenia gravis in Northwest China: a single-centre retrospective cohort study," was published in the journal BMC Neurology.
MG is characterized by muscle weakness due to the presence of self-reactive antibodies (autoantibodies) that drive the immune system to attack and destroy certain proteins that play a key role in nerve-muscle communication.
While most MG patients have autoantibodies targeting the acetylcholine receptor (AChR), around 4–5% have autoantibodies against another protein called MuSK. These are found in about 30% of patients who are negative for AChR antibodies.
The presence of MuSK antibodies is linked to a faster disease progression and limited responses to standard therapeutics. However, in general, few studies have investigated treatment responses and long-term outcomes of MuSK-positive patients to treatment with immunosuppressants.
In this study, researchers conducted a single-center retrospective study to describe the characteristics of MuSK-positive MG patients and their response to different treatment regimens.
They reviewed the records of 18 MuSK-positive MG patients — 15 women and three men, with an average age of 40.28 years at disease onset — who were admitted to Tangdu Hospital of Air Force Medical University between October 2017 and September 2020.
Over the course of the disease, several immunosuppressive regimens were used, including oral prednisone, azathioprine, tacrolimus, rituximab and into-the-vein methylprednisolone. Patients' responses to the different treatment types were included in the analysis.
Eleven of the 18 patients (61.11%) showed a positive response in the pyridostigmine test. Pyridostigmine, marketed as Mestinon, Regonol, and other brands, is the most commonly prescribed acetylcholinesterase inhibitor (AChEi) to treat MG.
Eye manifestations were the most common complaint at disease onset, reported by 11 patients (61.11%), with mild drooping of the upper eyelid, a condition called ptosis, being the most frequent symptom.
Bulbar symptoms — problems with chewing, swallowing, and breathing — were the most common manifestation over the entire disease course and were seen in 16 of the 18 patients (88.89%).
All 18 patients were evaluated in a repetitive nerve stimulation (RNS) test, with 15 (83.33%) showing impaired responses affecting at least one nerve. RNS uses electrodes to send small electrical pulses to measure a nerve's ability to send signals to muscles. These electrodes are usually placed on a patient's skin over the muscles clinicians wish to test.
Almost all patients (83.33%) had impairments in the musculus deltoideus — the muscle that contours the shoulder — followed by the orbicular oculi (a eyelid muscle; 66.67%), the trapezius (upper back muscle; 44.44%), and the abductor digiti minimi (a muscle that controls the movement of the little finger; 16.67%). No muscle shrinkage was observed.
Three patients (16.67%) showed abnormalities in the thymus gland, a specialized organ of the immune system, as detected on a chest CT scan. Three others were diagnosed with additional autoimmune diseases.
All patients were treated with prednisone alone or in combination with azathioprine, tacrolimus, or low-dose rituximab.
All but one patient responded favorably to these treatment options. During the treatment course, researchers registered nine relapses in six patients. Three of them occurred in a single patient treated with prednisone plus azathioprine. No serious adverse events were reported with any of the treatment regimens.
Two of the three patients treated with prednisone alone achieved clinical remission, as shown by a score of zero in the Quantitative Myasthenia Gravis (QMG), a measure of disease severity in which higher scores are indicative of more severe impairments.
Researchers also found a positive correlation between QMG scores and MuSK antibody levels, with higher levels correlating with more severe disease.
In general, the more significant reductions in MuSK antibody levels were seen in patients treated with the combination of prednisone and tacrolimus (82.69% reduction), followed by low dose rituximab plus prednisone (76.04% reduction), and prednisone plus azathioprine (45.68% reduction).
Overall, this study suggests that MuSK-MG is found mostly in women, and its most frequent clinical manifestations affect eye and bulbar muscles.
"Low-dose [rituximab] or [tacrolimus] plus [prednisone] could be considered as a promising first choice of treatment given its favorable efficacy and safety profile," the researchers wrote.
"In the future, high-quality trials with larger samples and longer follow-up are required to clarify the long-term efficacy and safety of different treatment regimes," they concluded.