Comorbidities, Common in MG, Appear to Rise as Patients Age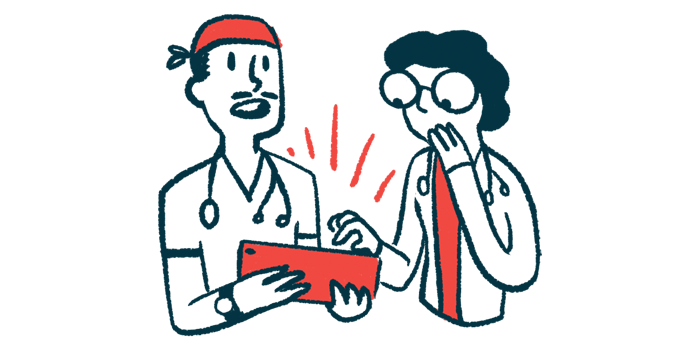 Comorbidities — co-existing illnesses like hypertension — tend to be more common in older patients with myasthenia gravis (MG) and to increase with advancing age, a study of patient registry data reports.
The presence of comorbidities, however, did not differ among these adults based on age at MG onset.
The study "Comorbidities in older patients with myasthenia gravis — Comparison between early- and late-onset disease" was published in Acta Neurologica Scandinavica.
MG, an autoimmune disease, is marked by weakened, and easily fatigued, muscles. Age at disease onset varies, being classified as early onset or late — defined in this study as MG onset before or after age 50 — as do patients' clinical manifestations.
Most people with MG respond well to treatment. As they age, however, associated comorbidities — which can include autoimmune conditions such as thyroid disease, systemic lupus erythematosus, and rheumatoid arthritis, as well as hypertension and diabetes — can affect quality of life, and potentially more than MG itself.
To further investigate comorbidities and their prevalence in MG, researchers in Poland and the U.K. looked at data covering 327 people enrolled in the Oxford Myasthenia Centre registry. Patients' median age was 70, with a median disease duration of nine years, and a median follow-up time of eight years.
Most, 69.1%, had late-onset disease or LOMG, and woman accounted for a majority — 60.4% — of the 101 patients (3o.9%) with early onset disease or EOMG. The median age of the EOMG group was 58, and 73 for the LOMG group.
EOMG patients had a longer median disease duration than did LOMG patients, 26 vs. six years, respectively, and were more likely to have had thymoma, a tumor of the thymus gland that is part of the immune system.
A majority of patients — 309 of 327 or 94.5% — had at least one comorbidity, and the median number of co-existing disorders in this group was four. The number of comorbidities rose with increasing age.
Researchers divided these comorbidities into three groups: treatment-related, meaning disorders that could be caused or aggravated by MG treatment; MG-associated comorbidities, including other autoimmune diseases more frequently found in MG patients than in general population; and all other comorbidities identified.
Treatment-related co-existing conditions were the most common, with 50.2% of patients having hypertension, 35.8% having high cholesterol (hypercholesterolemia), and 20.8% having diabetes.
MG-associated disorders were next, with 17.3% of patients having thyroid disease, and 14.7% having rheumatoid arthritis or connective tissue disorders.
Overall, treatment-related diseases like hypertension and high cholesterol were the most prevalent comorbidities in both  EOMG and LOMG patients, followed by MG-associated disorders like thyroid disease.
Comparing just raw prevalence, researchers found some disorders more common among LOMG than EOMG patients: namely, hypertension (58.4% LOMG vs. 31.7% EOMG), hypercholesterolemia (41.2% vs. 23.8%), diabetes (24.8% vs. 11.9%), cataracts (15.5% vs. 5.0%), and prostate disorders (15.0% vs. 2.0%).
Looking at these disorders across 140 age- and sex-matched LOMG and EOMG patients, however, did not show any significant differences.
"It seems that comorbidities are associated more with [a patient's] age than the disease type," the researchers wrote.
Patients with and without thymoma also had similar comorbidity profiles. When raw prevalence was looked at, osteoporosis was more frequent in those with thymoma (20.1%) than in those without it (10.4%); while hypertension was more frequent in those without thymoma than with it (35.4% vs. 52.7%). Likewise, prostate disorders were 0% in the thymoma group, and 12.9% in the non-thymoma group. Comparing across EOMG patients alone, no significant differences in comorbidity prevalence was seen in those with and without thymoma.
Although thymoma is often associated with autoimmune conditions, researchers also found no increase in other autoimmune conditions in MG patients with thymoma.
EOMG patients without thymoma — meaning the thymus was not the likely cause of their MG — were more likely to have their thymus removed (a procedure called thymectomy) than were those with LOMG, 44.7% vs. 3.5%, the study noted. This remained a significant difference even when patients were age- and sex-matched.
MG patients were taking a median of three medications to treat comorbidities. This number was higher in those with LOMG (a median of four medications) compared with those with EOMG (a median of two). However, there was no difference in medication number when comparing between age- and sex-matched groups.
Researchers noted that some medications may interact with MG treatment or worsen MG symptoms, and recommended that their benefits be carefully weighed against possible adverse effects, especially in an older MG population.
The majority of the patients, 82.6%, had received steroids at some point. Despite steroid use often not being advised for people with numerous co-existing conditions, EOMG patients were more likely to be using steroid-sparing medications (57.4%), which reduce the need for steroids, than were LOMG patients (36.3%) who typically have more comorbidities.
Researchers suggested this may be due in part to EOMG patients having a presumed longer disease duration, so steroid-sparing medications are introduced earlier. LOMG symptoms may also be initially underestimated, attributed to age-related muscle weakening or muscle weakness due to a co-existing condition, the team noted.
Co-existing conditions in LOMG patients can also make it more challenging to tailor well medications used to suppress autoimmune conditions, such as steroids or steroid-sparing medications, the researchers added.
Based on these results, the team concluded that "comorbidities in older patients with myasthenia are very common, increase with age, and do not differ between early- and late-onset disease."
Researchers emphasized that MG management  requires particular care and clinical attention as comorbidities tend to accumulate with age, and that it must be taken into account when tailoring therapies for older patients as well as for aging EOMG patients.