Why Raising Awareness for Myasthenia Gravis Is Important to Me
It's difficult to explain to a 20-something in perfect health why raising rare disease awareness is important. However, I had just turned 20 when my entire life was turned upside down by a myasthenia gravis (MG) diagnosis.
Illness does not discriminate — anyone can be affected by it at any age. I had to learn that the hard way. That's why raising MG awareness is so important to me. I want people to be prepared and to better understand why others are struggling. And I hope the world will be a little less intimidating and lonesome for the next young person diagnosed with MG.
I have seronegative myasthenia gravis. That basically means doctors can't detect MG antibodies in my blood. I waited a long time to receive the correct referrals. It took even longer for doctors to actually believe me and acknowledge that my symptoms weren't psychogenic. Unfortunately, I've found that many myasthenics struggle with getting the right diagnosis.
Based on my experiences in both international and local online support groups, many people with MG are first told, "It's all in your head." Personally, I started to believe that I was causing my symptoms. So many people had said that was the case that I believed it was true.
I believed I was causing myself to collapse in the middle of nowhere for no one to see, to fall in the shower with the water at an extremely high temperature without the ability to get up and turn it off, and to see a blurry version of what life has to offer, among other symptoms. I believed I was making myself sick.
That wasn't the case, though. I wasn't making up my symptoms. Although I was beginning to believe that my symptoms were caused by depression (my father had passed away when I was younger), that was not my truth. I wasn't suffering from conversion disorder. I was suffering from MG. I had an illness with no known cause. It just happened, and it happened to me.
My eventual diagnosis was based on an irregular single fiber electromyography test, my clinical response to MG treatment, and my clinical presentation. The most important part of my diagnosis, however, was a knowledgeable neurologist. I found a doctor that was aware of and believed in the very real existence of seronegative MG.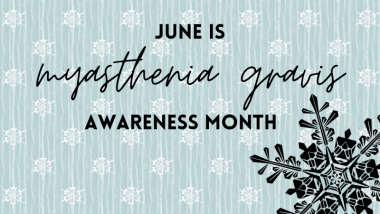 If MG Awareness Month, which lasts throughout the month of June, results in just one doctor reading one article about MG, I will be satisfied. I strongly believe that MG advocacy should not only be directed at the general public, but also at medical professionals. I want people to experience an easier road to diagnosis so we can all fight together.
Never forget that life is beautiful.
***
Myasthenia Gravis News is strictly a news and information website about the disease. It does not provide medical advice, diagnosis or treatment. This content is not intended to be a substitute for professional medical advice, diagnosis, or treatment. Always seek the advice of your physician or other qualified health provider with any questions you may have regarding a medical condition. Never disregard professional medical advice or delay in seeking it because of something you have read on this website.