Myasthenic crisis follows anesthesia, failure to disclose generalized MG
Woman requested general anesthesia for outpatient MRI due to claustrophobia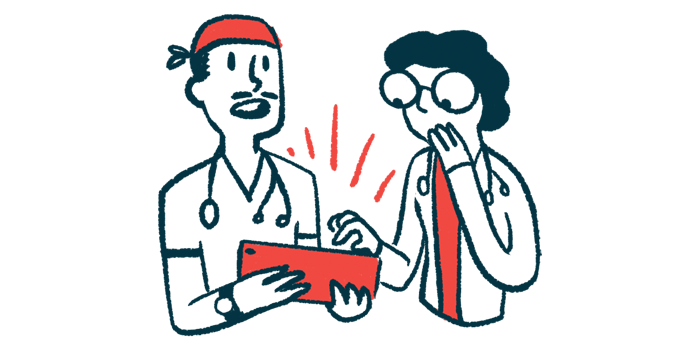 Early detection and treatment of a myasthenic crisis — a serious complication of myasthenia gravis (MG) — in a woman under general anesthesia avoided potentially life-threatening complications, according to a recent case report.
The woman did not inform the anesthesiologist of her generalized MG, and she requested anesthesia for a scheduled abdominal MRI because of claustrophobia.
"Despite being prepared to deal with and provide anesthesia care to patients with MG, anesthesiologists may not be sufficiently aware" of a myasthenic crisis, the scientists wrote.
In this case, quick recognition of the crisis and the bringing together of a multidisciplinary team "involving anesthesiologists, emergency doctors, and neurologists" allowed for its "appropriate management … and resulted in a favorable outcome."
Woman mentioned type 2 diabetes and depression, not generalized MG
The report, "Unexpected myasthenic crisis in anesthesia for magnetic resonance imaging – diagnosis and management," was published by a team of scientists in Portugal in the journal Cureus.
MG occurs when the immune system produces antibodies that wrongly attack proteins involved in nerve-muscle communication. This communication is made possible by a signaling molecule, or neurotransmitter, called acetylcholine, which binds to receptors on muscle cells. Most cases of MG are driven by antibodies that target the acetylcholine receptor.
Myasthenic crises are potentially life-threatening episodes of disease worsening, marked by severe muscle weakness and respiratory failure, requiring assisted ventilation for breathing. They are rare and can be triggered by stress, surgery, pregnancy, and certain medications.
The woman, 69, came to the scientists' hospital in Porto for an outpatient MRI to evaluate a polypoid lesion in her stomach.
Before undergoing the procedure, she was asked to disclose her overall health and medications. She mentioned having type 2 diabetes being managed by lifestyle choices, and depression she was treating with venlafaxine. She also was using a machine to pump pressured air into her lungs at night, which the anesthetists assumed was for obstructive sleep apnea.
The patient denied having allergies, and she mentioned a previous and uneventful chest surgery to remove benign tumors.
Anesthesia was induced with propofol and maintained with sevoflurane, with continuous monitoring of vital signs and no evidence of problems. "Spontaneous ventilation was maintained throughout the entire procedure," the scientists wrote.
She regained consciousness after the procedure, but she showed "poor ventilatory dynamics" and was unable to fully open her eyes or speak. She required assisted ventilation to breathe.
The doctors then suspected MG and a myasthenic crisis based on her condition and a review of her surgical history.
A subsequent medical history review, including that provided by her daughter, disclosed the woman's generalized MG, managed with the muscle strengthener pyridostigmine (sold as Mestinon, generic versions available), as well as the immunosuppressants azathioprine and methotrexate.
The woman also previously had a thymectomy, a surgery to remove the thymus gland that can treat MG, and she was under the care of a neurology team at another hospital, the report noted.
Different anesthesia 'probably chosen' if MG known in advance
With respiratory insufficiency controlled with assisted ventilation, treatment with neostigmine and hydrocortisone was started "as part of immunomodulatory therapy." A marked improvement was seen soon with neostigmine, and "full recovery occurred after 30 minutes" in terms of her breathing, level of consciousness, and blood gas measures.
She was started on noninvasive ventilation, and an assessment by neurologists indicated that her myasthenic crisis could have been due to sevoflurane rather than the disease itself.
"Although undertreatment is an important cause of MC [a myasthenic crisis], some drugs that may increase myasthenic weakness and trigger an MC episode, such as sevoflurane," the scientists wrote. Although this anesthetic is not contraindicated in MG patients, it "should be used with caution as it can exert an inhibitory effect on neuromuscular transmission."
Her care team "would have probably chosen another anesthetic technique" given her entire medical history.
This case highlights "the importance of a pre-anesthetic consultation before the procedure with a review and optimization of the patient's diseases and medications and checking past anesthetic charts and surgical records, especially in high-risk cases/patients," the scientists wrote.
Neurological tests revealed the patient had double vision and impaired movement of her left eye. Treatment with oral pyridostigmine was started.
Noninvasive ventilation was stopped and she started to use oxygen delivered via a nasal cannula. After eight hours of monitoring in the hospital's emergency department, the woman was discharged and returned home that same day.
While a quick and correct analysis of the cause of her distress and the use of multidisciplinary team managed the crisis, "in this case, the best way to proceed would probably involve an early referral to a pre-anesthetic consultation, as the patient required the procedure to be performed under sedation/anesthesia," the scientists wrote.
They also noted it would have been best to schedule her MRI "on an in-patient basis."