'Significant' Healthcare Burden Evident With MG, Polish Study Finds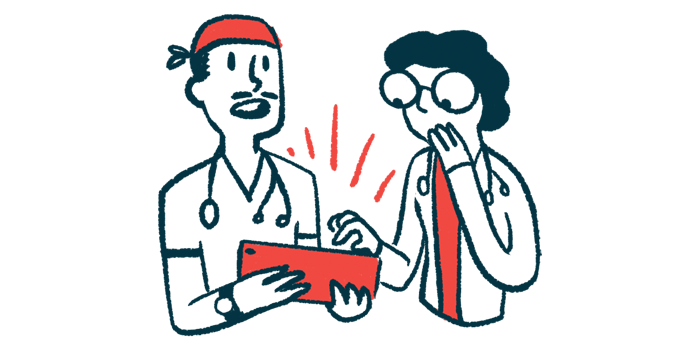 Nearly half of all people with myasthenia gravis (MG) in Poland were admitted to a hospital a mean of two times in 2018, although not always for complications of their disease, a recent nationwide database study reported.
Reasons for hospital stays included relevant treatments, its researchers noted. MG patients hospitalized for disease-related reasons between 2013 and 2018 and admitted to intensive care also had stays that ranged for a mean of two to three weeks.
"Our findings confirm significant healthcare burden of MG, comprising a tool to plan resources needed for MG patients," the researchers wrote.
The study, "Myasthenia gravis—treatment and severity in nationwide cohort," was published in the journal Acta Neurologica Scandinavica.
In most MG cases, the body attacks its own receptors for acetylcholine, a signaling chemical released by nerve cells that sends messages to muscle cells, telling them to contract. Poor communication between nerve cells and muscle cells causes skeletal muscle weakness and fatigue.
"Some patients require long-term immunosuppression, multiple hospitalizations, or specialist care, including hospitalization in intensive care units (ICU)," the researchers wrote.
To gain a better understanding of MG severity and its treatment in Poland, researchers with the National Health Fund used its database records to examine patients with at least two prescriptions for pyridostigmine or ambenonium over two consecutive years between Jan. 1, 2012, and Dec. 31, 2018.
Pyridostigmine (sold as Mestinon, among other brand names) and ambenonium (sold as Mytelase) are often prescribed to treat MG.
Data collected covered the type of treatment given, the number and duration of hospital and ICU stays, and reported deaths.
"Such approach would help to estimate resources necessary for MG patients or their possible unmet needs," they wrote.
In 2018, a total of 9,012 people were diagnosed with MG. Approximately one-third third (30.6%) had early-onset MG, meaning their first symptoms appeared before the age of 50.
Most patients, 66.3%, were receiving symptomatic treatment only, while 33.7% were prescribed glucocorticoids and/or other immunosuppressants.
Of those on immunosuppressants, 71.0% were using glucocorticoids, 17.5% received azathioprine in combination with glucocorticoids, 11% were on azathioprine, 4.6% received glucocorticoids plus another immunosuppressant, and 2% were using another immunosuppressant only.
Of the 42.3% of MG patients admitted to the hospital in 2018, discharge diagnoses show "only 13.7%" were due to MG, the researchers wrote.
Reasons for a hospital stay included treatment with plasma exchange, also known as plasmapheresis, (11.86% of those hospitalized and 1.63%  of country's total patients) and intravenous immunoglobulin treatment (16.95% of those hospitalized and 2.33% of all patients).
"Patients requiring multiple hospitalizations were younger, more often female, using CS [glucocorticoids] and other IS [immunosuppressives] as compared with those who did not require admission or were hospitalized up to two times per year."
Among patients hospitalized due to MG between 2013 and 2018, 16.4%–21.2% were admitted to an ICU and had a mean stay of 11.5 to 15 days per patient per year.
In 15.25% of these ICU patients, the cause for intensive care was a myasthenic crisis, or sudden worsening in MG symptoms, including respiratory failure, respiratory arrest, or other breathing problems.
The mean age at death was 75.7 years for MG patients and 73.9 for the general population, reflecting "effective care," the researchers wrote. They also noted that prior research indicates "mortality due to MG significantly decreases over time."
This study, they concluded, "confirms [a] significant health burden for MG patients, with high demand for immunosuppressive treatment, need for in-hospital treatment of severe exacerbations, and risk of death due to myasthenic crisis in an aging population," the researchers wrote.